d="center1col">
Inflatable Joust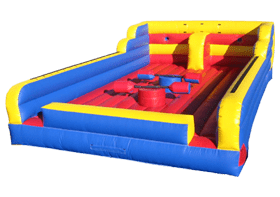 Inflatable Gladiator Joust
$349
Picked Up, Add $69 For
Delivery, Set-up, & Tear-Down
You've seen these in movies and TV
shows…now bring the fun to your next event! Put on your head gear, hop up on the jousting
pedestals, and duke it out with your friends.  Whoever
remains standing is the winner! This unit is one of our easiest to set-up and is a perfect way to create a competitive atmosphere.
You can now place your pick-up
order ONLINE and see instantly if the items you want are
available!